Cosmetic Product Photography Prices:
Lifestyle Photos & Staged Images $100 per hour

Product Shots on Pure White with Shadow $27 each

Add $500 for On-Location Projects or $50 for In-studio Client Hosted Session


Min Order $400 + HST
---
Participate in the Photo-Shoot to direct the creative photos

We provide the photography service & creative assistance

You get graphic design images to promote and market your brand
.
Jules Design also offers Cosmetic Video Design Services
---
Jules Design is a Toronto Cosmetics Photographer.  We specialize in producing cosmetic product photos that can be used for a wide array of marketing applications.
---
When the products are part of a series, the marketing intention is preferable to sell the merchandise as part of a group.  After all, groups usually equate to greater sales volumes and revenues.  Combos, special offers and gift baskets are terrific methods to encourage customers to buy more products.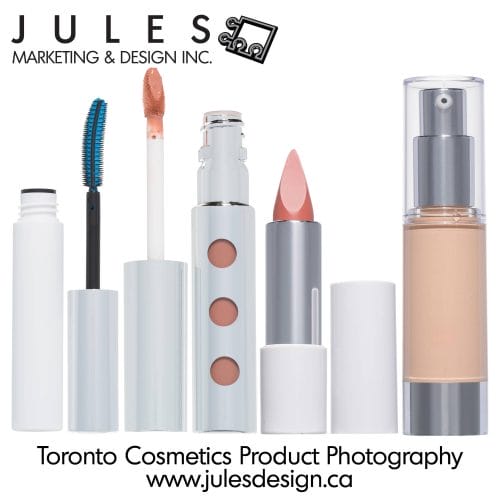 Selling the product as groups also allows the vendor to offer greater value to customers.  This is because some items may work well alone, but may work much better in concert with a related product.
Discontinued merchandise is a problem when photographing cosmetics 
Inevitably, all products are eventually modified or discontinued.  So when you get all of your products photographed together, if one item is discontinued, the entire photo is no longer usable.
To alleviate this, Jules Design offers a unique photography solution.  By photographing all items individually at the same angle of view, cosmetic items can be assembled together (in Photoshop) to create complex group shots and montages.
This approach solves many problems.  Products that are discontinued or modified can be swapped in easily with another image photographed at the same angle of view. Moreover, graphic arrangements can be easily modified to accommodate new promotions.
Toronto cosmetic photography rates are not astronomical.  Typically, most cosmetic photographs are about $27 per image; however minimum orders do apply.  This price does include a faux shadow to finish off the graphic.  In addition, we provide you with the images in various file formats for different marketing uses.
Toronto Cosmetic photography by Jules Design features consistent colour accuracy.  Moreover, we offer a wide range of other business solutions including instructional cosmetic videos, creative staging, infographic images, etc. Infographic images are graphics with information.  In the case of cosmetic infographics, these images man include product photos with diagrams, text, skin zoom in, application shots, etc. 
To initiate a cosmetic product photography photo shoot, simply call us to discuss your project.
Participate in the photo-shoot or simply drop off the merchandise at our studio.  Alternatively, provide us with a creative mandate and we'll take care of the rest.  Our Toronto cosmetic photography studio is located in central Toronto near the DVP and Eglinton.

If you are looking for a dependable Toronto cosmetic photographer, contact Jules Design.
---
Jules Marketing & Design Inc.
T: 647.997.2793
25 Hollinger Rd Toronto, Unit 8 ON M4B 3N4
www.toronto-product-photography.com
https://www.julesdesign.ca/toronto-product-photography/
Did you like this article? If Yes read more about how we manage colour!