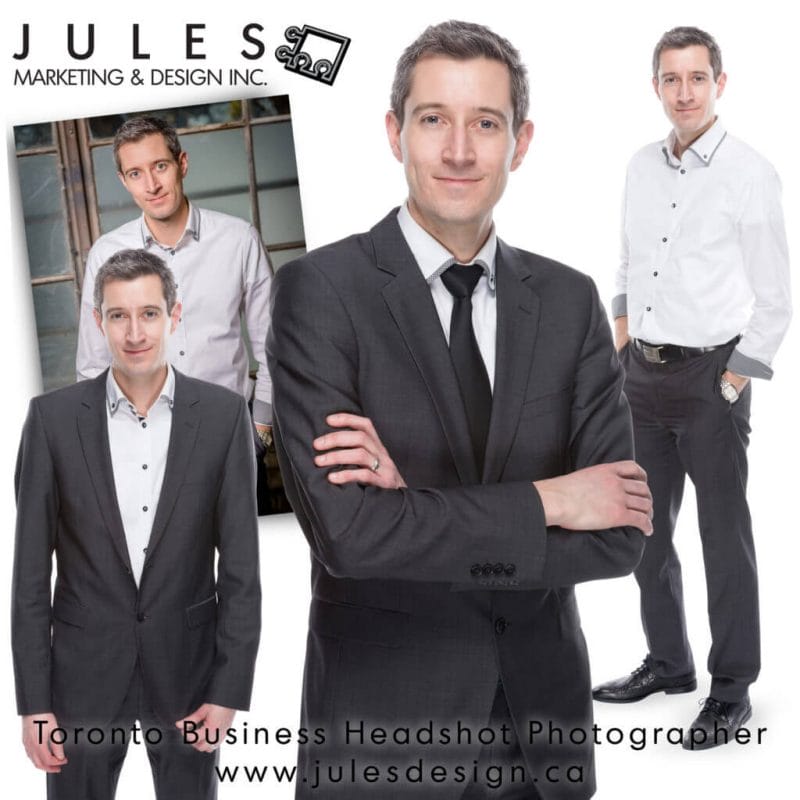 Your professional persona is synonymous with your brand; as a result, you need headshots that convey your value.  Photos that tell your story, business and value proposition will help you sell and grow your business.
Toronto Realtor Headshots by Jules Design are Business Portraits made to enhance your personal brand and grow your business.  We do not just take headshots; we make business portraits as a graphic design element ready for marketing use.  Because we remove the background, you can impose your photo(s) into promotional collateral to promote you and your services.
Our business portraits are very popular among Real-Estate Agents, Executives, Mortgage Brokers, Lawyers and other public personalities.  For these professionals, their public persona is the lifeblood of their careers and business.  Great headshots convey credibility and correlate with business income and revenues.
In addition to creating excellent business headshots, we also provide the related creative services.  Our offerings include graphic design, video and creative writing.  Use us to produce your videos, posters, billboards, business cards, catalogues and more.  In addition, we provide bilingual writing services in both English and French.
Our photo studio is located in central Toronto near the DVP and Eglinton.  We provide on-location or in-studio business portraits service.  Our primary trading are includes Markham, Mississauga, Brampton, Vaughn, Concord, Richmond Hill and the GTA.
In a typical in-studio headshot photography session, we provide clients with a one-hour period with additional time for preparation and wrap-up.  During this appointment, clients will produce portraits in different outfits with varying background.    This is sufficient time to produce anywhere from 100 to 200 images.
During the photo-shoot, we will coach you on your posing to look your best.  As we view portrait sessions as a creative collaboration between photographer and subject, we welcome your input for better results.  To help with this, we shoot with a large monitor that allows you to see your new photos as they are being produced.  This is a powerful tool as it enables the photographer and client to refine and adjust their style to get improved results.
After the shoot, we give you the images to select the best for advanced Photoshop editing.  Photoshop editing for our headshots may include wrinkle and blemish removal and more.  For more information on professional Toronto Realtor Headshots and Business Portraits contact Jules Design.
---
Jules Marketing & Design Inc.
25 Hollinger Road Unit 8
Toronto Ontario
M4B 3N4